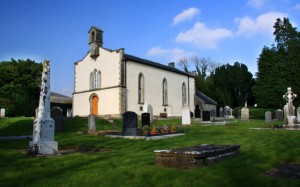 Killedmond – St. Peter's Church
Our picture shows St. Peter's Church, Killedmond, one of the four churches in the group. It is to be found on the lower slope of Mount Leinster, below Rathanna and towards Borris. It is a location of great beauty and peace. It is quite hard to find, sheltering behind an attractive avenue of Yew trees, beside Killedmond Cross Roads.
The church itself is of granite structure, built about 1840 and consecrated in 1846, probably designed by Frederick Darley as it has close similarities with Lorum Church, also in this group. The church has three bays of narrow, lancet windows set in rough-cast walls which have recently been re-rendered and painted. The west front has a pointed, tudor doorway, with string-course above and a triple-light window. The walls have raised coigns and on the gable is a granite bellcote. A vestry was added in the late 19th century and is built of granite ashlar.
A major benefactor of Killedmond Church was the Butler Family of Mount Leinster Lodge.
Much restoration work was done to the general fabric of the church in the 1980's as it had fallen into a poor state during the 60's and 70's, to the extent that closure was an option.
The church is set in, what is now, a very carefully and well maintained churchyard, with neat and cared for burial grounds to the rear, as can be seen in the picture elsewhere in this site.
The Patronal service this year is on Sunday 28th June at 6.30pm, at the end of the traditional hill walk, the eve of St. Peter's day.
Service Times
1st Sunday 11.30 a.m. (MP)
2nd Sunday 11.30 a.m. (HC)
3rd Sunday 11.30 a.m. (HC)
4th Saturday No Service