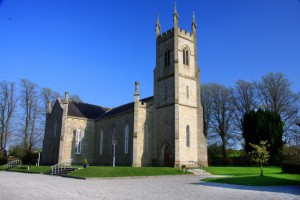 St. Mary's Church is located in Bagenalstown. The original church servicing this area was at Dunleckney, about 7km north, out towards Carlow. It stood next on the same site to the Roman Catholic Church, as can still be seen there in the ruins.
The building and opening of the canal, the Barrow Navigation, in the 1790's caused the town to grow fast. The community outgrew Dunleckney Church and, as with St. Andrew's, moved into a new church in the town. The town's design partially reflected, and still reflects, Walter Bagenal's dream of a small Versailles in Ireland, planned around the river frontage. St. Mary's Church in the town, was accordingly completed and opened in 1844, with the town added in 1850.
The church itself is a large, cruciform-plan building, with a three-stage west tower. It is built of granite ashlar with tall, pointed windows with diamond panes, diagonal buttresses crowned with crenellated pepper-pots and a roof of natural slate, supported by granite brackets. The tower also has diagonal buttresses, a pointed doorcase, pointed windows, English style crenellations and pinnacles. The interior contains some wall monuments. The church is in the First Fruits style. It is possible that it is by Thomas Cobden. It occupies an imposing site in the centre of the town, with St. Mary's Primary School sharing the same site. Between the two,next to the church,is the parish hall,formerly the parochial school. The hall is older than the church and is much admired for it's classic proportions.
Service Times
1st Sunday – 11:30am (HC)
2nd Sunday – 11:30am (MP)
3rd Sunday – 11:30am (MP)
4th Sunday – Combined Service