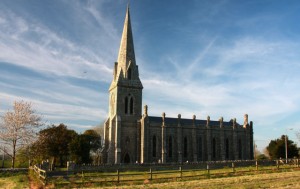 The Church of the Good Shepherd, Lorum, is near Ballinkellen and stands on an ancient Christian site. Tradition has it that St. Lazerian paused at Lorum on his way from Rome via Wexford as he headed towards Old Leighlin where he founded his religious community. There is a fragmentary cross-shaft at Lorum and also the foundation of a former round tower.
The present building is an unusual, late first fruits church designed by Frederick Darley about 1838 in a gothic-revival style not dissimilar from the work of John Semple. It is built of coursed-rubble granite with a long, seven-bay nave with a rectangular chancel, tall, pointed windows set between buttresses which are topped with finials that look like small chimney-stacks. The slated roof is largely hidden by a tall parapet. The fine, west tower and broach spire were added in 1862 and the vestry was added at the same time. The tower is in two stages, is built of granite ashlar with well detailed, thirteenth century style, gothic revival windows. The gate piers are also by Darley and reflect the detailing on the church. In the churchyard is a fragment of an earlier church possibly dating from the 18th century. As with the present building it too is protected.
Inside,the church is noted for its beautiful and unusually worked timber roof. The church is equipped with a fine pipe organ in the west gallery which is in use each week.
Service Times
1st Sunday – 10:00am (MP)
2nd Sunday – 10:00am (HC)
3rd Sunday – 10:00am (HC)
4th Sunday – No service