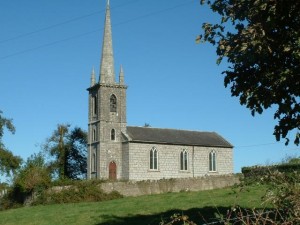 The present building, that is St. John's Church, dates from 1792 and so, is amongst the oldest of the local parish churches in regular use. It is a small, early First Fruits Church. Later alterations were made and it was re-fitted around 1870. In the early years of this century it was realised that the tower was leaning off dangerously, and in 2006, it was taken down and re-built at a cost of €132,000.
The present church of St. John, is an elegant well proportioned country church, with a spire and stands on the hill of Nurney – "An Úrnaí" – the place of prayer. Its well-placed location and shape, make it a natural place for prayer and contemplation, as one surveys from it, a long stretch of the Barrow Valley and further away, the Sliábh na mBán and Comeragh mountains. The High Cross of Nurney should not be missed in the field behind the churchyard.
The building itself has a three-bay nave, built of large blocks of coursed-rubble granite, with three, pointed windows which have "Y" mullions and small panes. The windows on the north side are blanks and there is a small vestry. The roof is low-pitched and covered with natural slates. The slender tower, has three stages and a wide cornice topped by pinnacles (no crenellations) and a needle spire.
The Bruen family of Oak Park, Carlow, were generous benefactors from its early years and were responsible also, for the design of Nurney as an estate village. Within Nurney parish, is Clonmelsh with traces of an early church building. Amongst those buried in the graveyard at Clonmelsh, are the Disneys, a respected local family and ancestors of Walt.
Service Times
1st Sunday – 10:00am (MP)
2nd Sunday – 10:00am (HC)
3rd Sunday – 10:00am (HC)
4th Sunday – No Service